MERCH by Amazon Sales Update # 5 – Feb 11, 2018 Overview of Today's Sales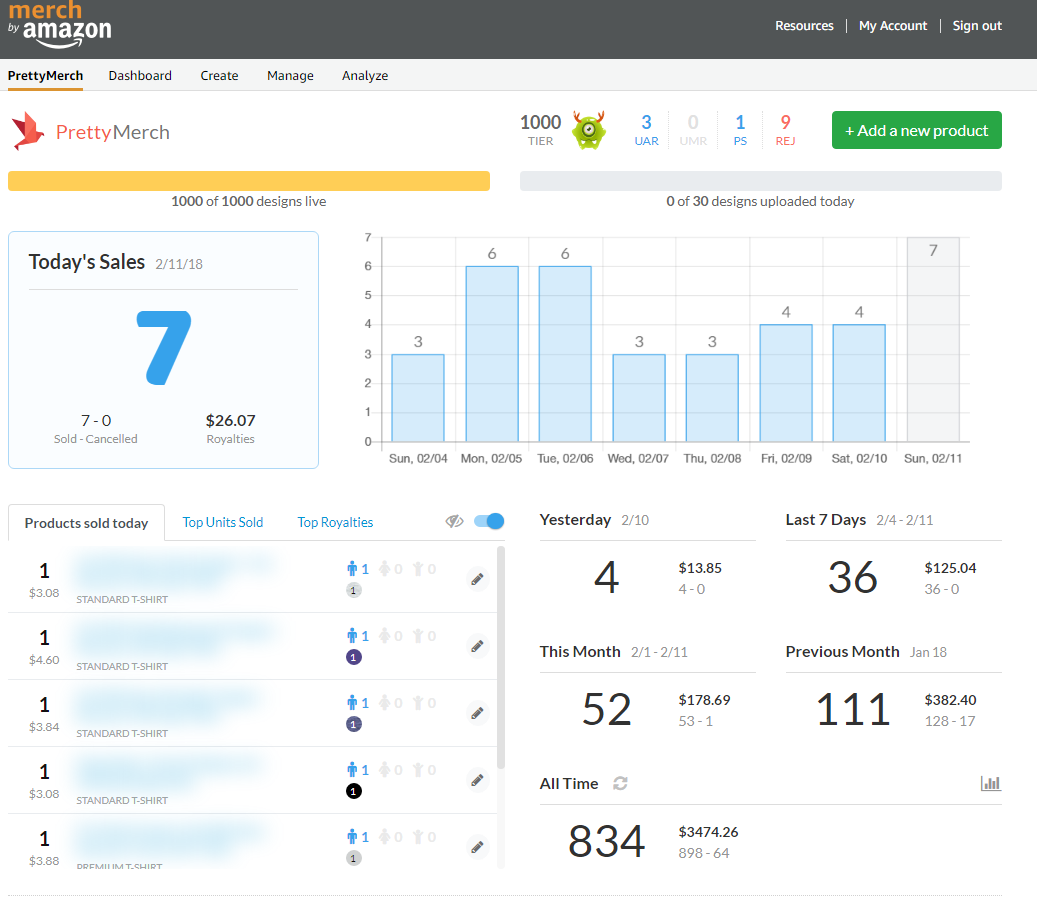 It's been about a week since my last update so I'll quickly go over the last few days and last week.
Today so far I've had 7 sales and there are about 6 more hours left in the day. Last week or so have been kind of slow averaging about 3-4 sales a day but after reviewing a few discussion boards it looks like it's slow across the board. Some have theories that it's because of the latest shirt style changeover but of course those are just theories. It could be for many other reasons like the designs we all thought are great might be terrible, it could be keywords we use or many other things.
Currently I have a 1000 uploads live which is my max for the tier. If my sales continue at the same pace they have been going last few weeks I predict (and hope) that I will get tiered up to 2000 in about a month or so. That will be great because I have about 300 designs in draft ready to be uploaded.
My total for the last 7 days is 36 and total for the last 11 days is 52. This is already great news as I am on track to beat January. January was slow as expected and my total for the month was 111 which makes January one of my best months but still nowhere where I would like to be.
Over the last week or two I've started working with a professional designer whose designs I'm really starting to like and are completely different from anything I have uploaded previously. I'm excited to give those a try and to see how much of a difference (if any) there is in sales. I will still continue to upload more simple designs which cover a lot of niches but since I have so many slots I want to cover everything.
I'll keep uploading, selling and giving updates so please feel free to ask questions or share any advice you might have!